Discover your possibilities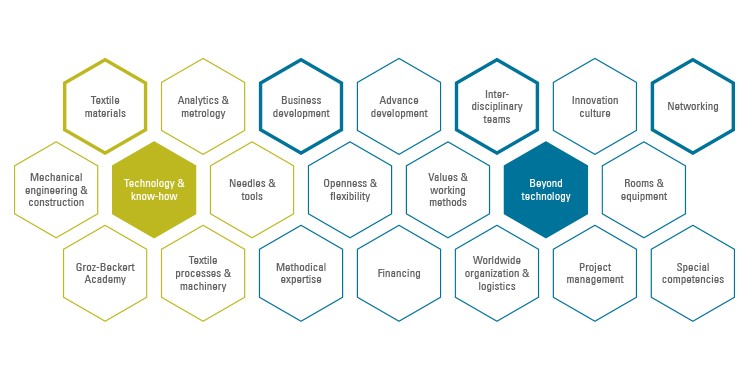 Whether optimization, development or new businesses, you may choose according to your needs from a wide range of resources and services.
The TEZ offers machines, needles, tools, measuring devices and expertise for each technology. But there's more. The services of the TEZ reach beyond the field of technology: Create future-proofed solutions for the textile world of tomorrow together with the TEZ.
The TEZ - Development beyond Technology!
Interdisciplinary teams
Compose your own team – The TEZ makes it possible for you! We invite you to compose a special team of experts according to your individual needs and requirements and involve for example experts in the field of polymer chemistry, civil engineering, machine engineering or electronics.
Business Development
We offer and look for cooperation and business development at all levels. Let's join forces to develop and push something new, but also share risks and experiences. We offer cooperation and competence from market research to production and market launch up to joint spin-offs.
Innovation culture
The TEZ offers space for innovation. The more than 40 employees of the TEZ are working exclusively for developing projects. The areas of expertise reach from textile engineering or polymer chemistry to business administration and business development.
Openness & flexibility
You are having an idea for the textile world and are looking for a partner? Then you are definitely in the right place in the TEZ. Whether start-up, institute, machine manufacturer or end user – we accompany you from the idea to the market readiness.
Financing
As an experienced and successful company we offer you a long-lasting and reliable partnership. This also includes the possibility of a joint financing and risk distribution within cooperation projects.
Worldwide organization & logistics
Groz-Beckert operates with agencies, production and distribution subsidiaries in more than 150 countries around the world. Within TEZ projects, this worldwide network can also be used by you, for example, for purchasing materials or wide-ranging market analyses.
Advanced development
The TEZ has made it its mission to continue with the co-development of findings from basic research into market-ready products. Therefore, we invest in the upfront development and are looking for you as a partner for joint implementation.
Project management
The implementation of innovative ideas requires an effective plan. Our specially trained project managers can support you by taking over planning, execution or controlling tasks.
Rooms & Equipment
Our TEZ offers modern rooms and equipment. Use our project rooms and presentation and conferencing equipment – in person or in digital form.
Special competencies
More than 250 employees from different fields and disciplines are working in our central R&D department. Therefore, many special questions or requirements have been answered already. Place your questions and requirements in the TEZ and let us find the solution together.
Methodical competencies
The TEZ is not only about doing the right thing, but also doing things in the right manner. We invite you to benefit from the extensive methodical expertise of the TEZ specialists e.g. in the fields of metrology, planning and execution of trials, project management or even business development.
Values & working methods
Reliable, fair and cooperative, innovative and quality-conscious – these values guide determine the daily work of the TEZ. We are on your side as a partner to develop the textile future together.
Networking
You need more knowledge or services than the possibilities of the TEZ? Then benefit from our extensive network consisting of research and industry. Experts from all specializations and sectors of the textile value chain meet at the TEZ. Shared approaches by different target groups may create new possibilities of cooperation for you.