Sewing machine needles from Groz-Beckert
Sewing machine needles have formed part of Groz-Beckert's manufacturing program for over 35 years now. Whether traditional underwear, high-quality suits, shoes or technical textiles – with a product portfolio of around 3,000 sewing and shoe machine needles, Groz-Beckert offers the right product for every application.
Sewing machine needles from Groz-Beckert are always produced with the latest technology and maximum precision, and have always boasted top-notch quality. Through regular further developments and innovations, Groz-Beckert has thus established itself as a leading provider in the field of sewing machine needles.
But not just this comprehensive and top-notch product program makes Groz-Beckert an indispensable partner. A wide range of services, such as the sewing and joining service and the Customer Portal, top off the outstanding offering. The patented INH Quality Management developed by Groz-Beckert for handling sewing machine needles in sewing plants also reflects the innovative force of Groz-Beckert.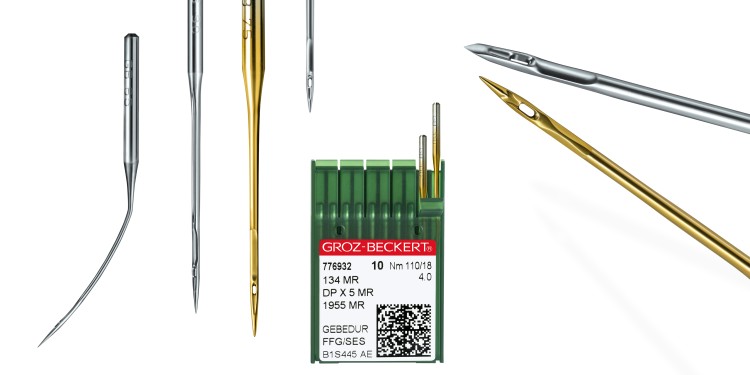 Product variety
Sewing machine needles come in many different types. Generally, they can be classified based on their sewing application, such as:
Chainstitch needles (UY 121, UY 128, B 63, 149x5, 149x7)
Lockstitch needles (DBx1, 134, 134-35, 135x17, 1738)
Embroidery machine needles (DBxK5, 287 WKH)
Overlock needles (B 27, UY 154)
Blind stitch needles (29 BL, 251, 1669 E EO)
Sewing machine needles are also available in different sizes and point styles (cloth points and cutting points) to suit the relevant material to be processed. Groz-Beckert also offers different special application needles (SAN™), with a geometry adapted to special applications.
More information on the variety of products and the individual sewing machine needles is available in the corresponding application field:
Over 30,000 years ago, man began using animal skins and fur to make items of clothing. Fish bones and bone fragments were used as needles. It was 20,000 later that a needle was first made from metal (copper). This was followed at the start of the 15th Century with the production of the first steel needle.
The invention and further development of sewing machines in the 18th and 19th Century resulted in a needle where the eye was positioned at the front on the point for the first time: marking the birth of the modern sewing machine needle in its basic form.
To this day, the basic technology of industrial sewing has not changed. Although the sewing machines have developed enormously, the function of the needle hasn't changed. But there is still room for innovations and further developments – and this is an area where Groz-Beckert is completely at home and has established itself as a leading manufacturer of sewing machine needles. Today, the Groz-Beckert production program includes more than 3,000 different needle types.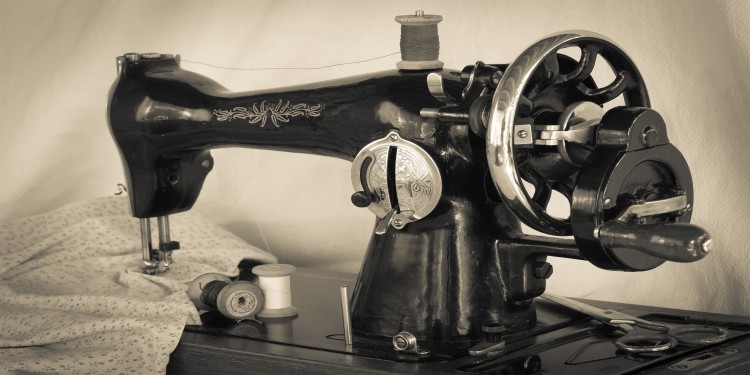 Sewing is the joining of material by a seam. According to DIN 61400, sewing is a process in which one or more threads are led through fabric and whereby the threads are interlaced with one another or with the fabric.
Only one thread is used when sewing by hand. Sewing machines, however, usually stitch with two threads, an upper and lower thread.
Seams can be created in different ways; i.e. with different stitch types. Stitch types vary in the geometric arrangement of the threads and, according to DIN 61400, are classified into six basic forms:
Class 100: Single-thread chain stitch
Class 200: Single-thread backstitch
Class 300: Two-thread chain stitch
Class 400: Two-thread backstitch
Class 500: Overlock chain stitch (overlock)
Class 600: Cover chain stitch (coverstitch)
Learn more about stitch types and see impressive animations on different stitch-formation types on our Customer portal.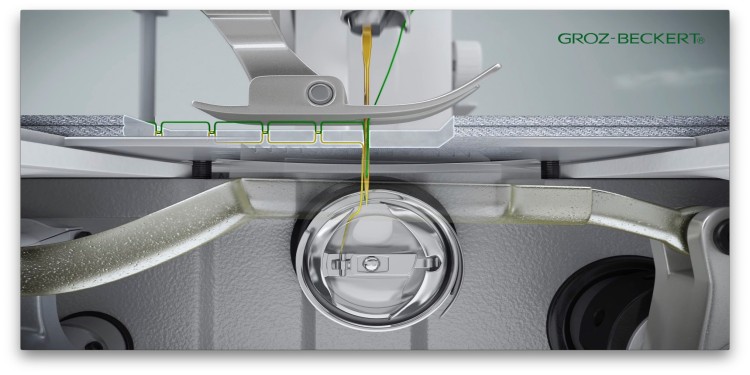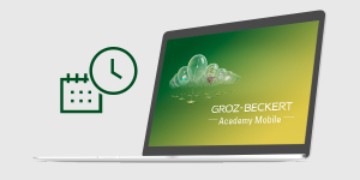 Online seminars
Enjoy interesting live presentations all around the sewing machine needle and sewing.
more information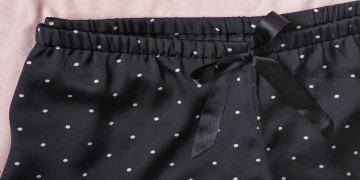 The new SAN™ 10 XS
The special application needle SAN™ 10 XS is now thinner and even more gentle on the material. Learn all about that in our Groz-Beckert magazine.
to the article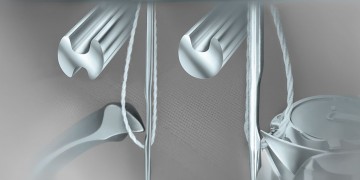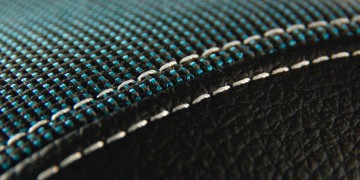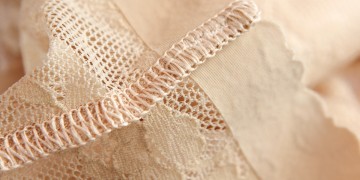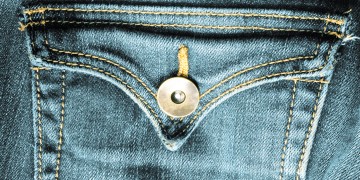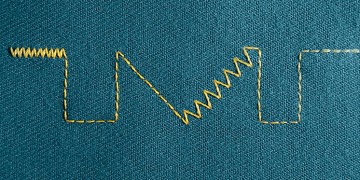 Are you already familiar with our newsletter?
The Groz-Beckert newsletter keeps you informed on all the latest developments in the textile world. Would you like to know more? Go ahead and register.
to the newsletter