Flat knitting
Flat knitting machines work with up to four needle carriers which are opposite one another like a V-shaped roof. As in circular knitting machines, the movement of the needles is controlled by cams. These cams are attached to the carriage of the flat knitting machine. The carriage performs a horizontal movement over the needle carriers.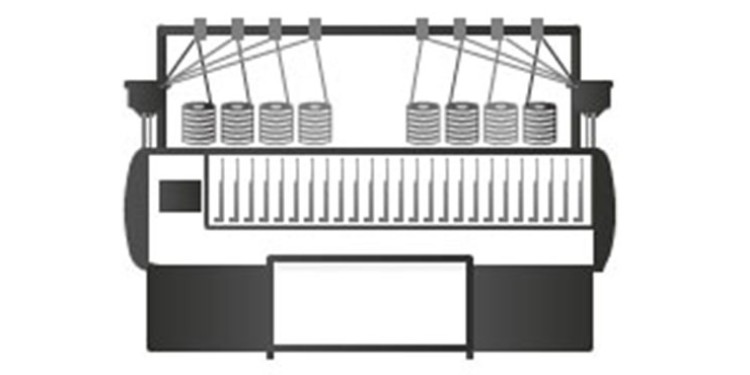 Typical application examples are the manufacture of outerwear, such as pullovers, jackets, vests and accessories like collars, cuffs, caps and also 3D molded parts for technical applications like upholstery.
Wire butt needle
In addition to state-of-the-art flat knitting needles for latest-generation machines, Groz-Beckert continues to manufacture wire butt needles of the kind found in old, hand-operated flat knitting machines.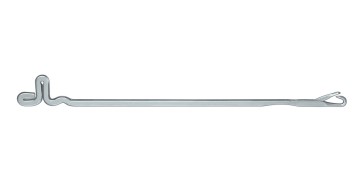 Groz-Beckert is one of the few manufacturers who still produce different types of wire butt needles for scores of machines. Wire butt needles represent the first generation of flat knitting needles. In contrast to stamped latch needles, which are made of rolled sheet steel, wire butt needles are made of steel wire that is pressed flat and then bent.
Links needle
Links needles, also called double-headed needles, are equipped with two loop-forming parts, located at the ends of the needle.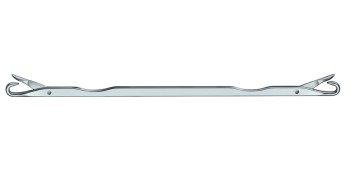 Links needles are used in the manufacture of knitted fabrics showing purl stitches on both fabric sides. Characteristic samples are baby rompers and traditional Alpine jackets to which the purl-knit structure lends a special elasticity. However, double-headed needles are now seldom used in flat knitting, since purl fabrics are nowadays manufactured with latch and compound needles with transfer function. Still, we continue to offer this niche product to our customers in typically high quality.
Latch needle without transfer function
Latch needles without transfer function are mainly employed in collar and glove knitting machines. Since very rigid collars are knit, the needle must be very stable.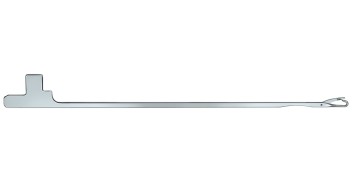 Groz-Beckert guarantees the high quality and precise execution of the needles. Especially in the collar, where also very fine gauges are knit, this is very important in order to ensure a uniform loop structure.
Latch needle with transfer function
For complex knitted fabrics it is necessary to transfer loops from one needle to another needle on the opposite side. This requires a transfer function.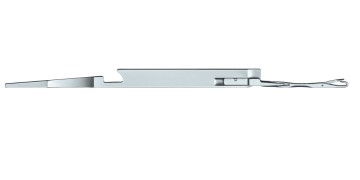 For latch needles with transfer function there are essentially two concepts: latch needles with transfer clip and latch needles with an additional slot on the back of the needle shank. In the transfer process with latch needles with transfer clip, the head of the receiving needle plunges into the transfer clip of the transferring needle. With latch needles with additional slot on the back of shank, the receiving needle plunges the needle head into the additional slot on the back of the shank of the transferring needle. Both cases require the transfer elements to be precisely executed in order to ensure secure plunging. With precisely executed transfer elements and exact edge rounding, Groz-Beckert needles provide high security in the transfer process.
Spring-loaded latch needle with transfer function
Many errors crop up in knitting when inserting yarn and casting off loops. Precisely in these processes, spring-loaded latch needles provide additional security.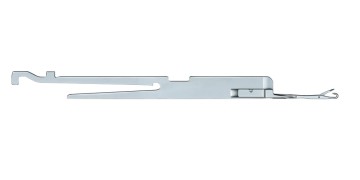 In spring-loaded latch needles a latch spring is installed under the needle latch. The latch spring provides for the automatic raising of the needle latch in closing and open position, thereby safeguarding yarn insertion and preventing loose loops from rebounding. Using spring-loaded latch needles from Groz-Beckert helps to produce a uniform loop structure, even when knitting bulky and fleecy yarns or yarns with several threads.
Compound needle with transfer function
Compound needles consist of two parts: the needle part and the closing element. In the loop formation process the closing element takes on the function of covering the hook in order to form another loop.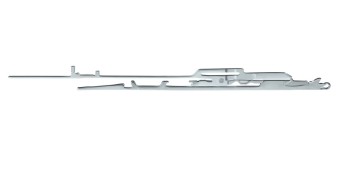 The closing element thus replaces the function of the latch on a latch needle. For this, the needle and closing element must move separately from one another.
Compound needles either transfer loops with a transfer clip attached to the side, similar to latch needles, or via a special closing element with transfer function. This involves a very sophisticated technology that enables even finer gauges to be reached.
Typical application fields for compound needles are shape knits and so-called 'finished knits', which are fully knitted, seamless items. Other working operations, such as sewing or joining individual parts, are not needed. Compared to traditional flat knit fabric, the manufacture of complete shape-knitted items boasts three-dimensional and anatomically correct fit.
Coupling parts
Coupling parts are used as connecting elements between needles and selecting jack.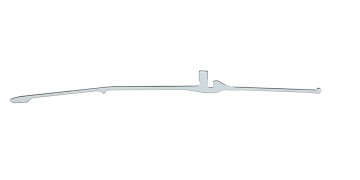 The reliability of the interaction of needle and coupling part is ensured by closely collaborating with machine builders. Joint development projects facilitate process reliability and high quality products.
Intermediate jack
The intermediate jack is used as connecting piece between needle and selecting jack. It ensures that a specified needle is securely positioned and performs the right knitting function.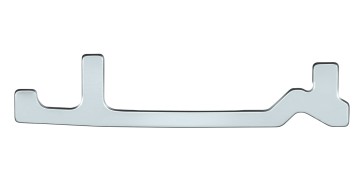 In contrast to other coupling parts, the intermediate jack is not engaged. This means that it is not connected to the needle, but is located separately in the needle trick and can be separately moved.
Selecting jack
Secured spring force, constant reaction time and good rounding ensure a reliable functioning of the selecting elements. This prevents selection errors, thus increasing customer profits.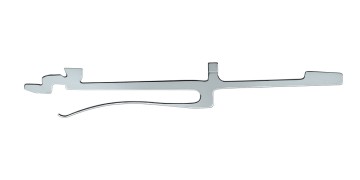 The requirements for selecting jacks constantly increase with higher machine speed, higher feeder density and finer gauges. Nevertheless, optimized surfaces at crucial points, weight reduction and an optimal design of the selecting jacks in close cooperation with the machine builders ensure functionality and reliable selection.
Press jack
During the loop formation process, press jacks ensure that the knitted fabric does not ride up.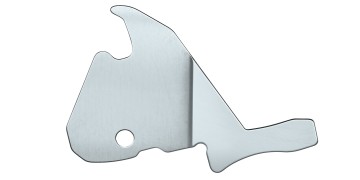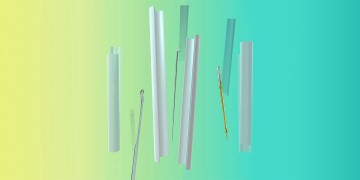 Experience knitting products in 3D
Discover our 3D product highlights for the knitting industry or arrange an online meeting with one of our experts.
explore now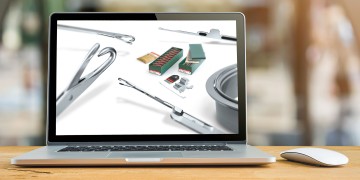 Online catalog
The customer portal for knitting customers provides detailed product information including pictures, technical features and dimensions.
visit now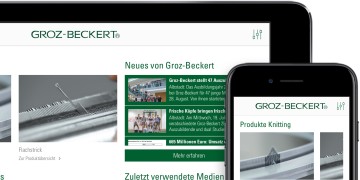 Mobile app
In the myGrozBeckert app you can find useful tools and calculation aids for the knitting industry.
find more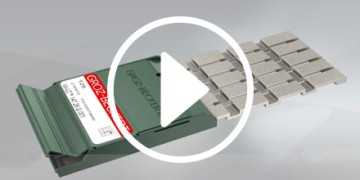 Downloads
In the media center you can find all kinds of information in the form of brochures, animations, and videos for free download.
to the media center
Are you already familiar with our newsletter?
The Groz-Beckert newsletter keeps you informed on all the latest developments in the textile world. Would you like to know more? Go ahead and register.
to the newsletter