Accessories
In addition to felting and structuring needles, Groz-Beckert also offers technical auxiliary means:
Needle removal tools, needle-board inserts, crank positioning disk and needle inspection board, as well as slide rules to determine penetration depth and stitch density.
Specially designed needle packaging completes the range.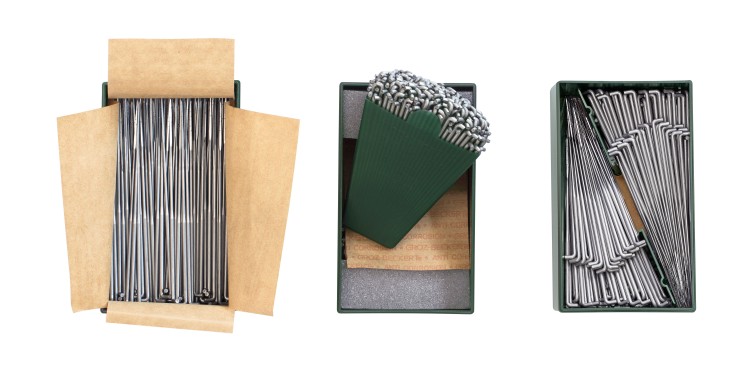 Needle removal tools
Needle removal tools remove felting and structuring needles from the needle board.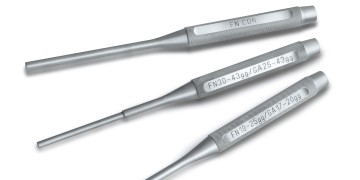 In addition to the standard version Groz-Beckert offers the FN CON removal tool with conically tapered working part for knocking out felting needles.
Needle-board inserts
Needle-board inserts are used primarily to easily identify different needle groups in the needle board. They are also tasked with stabilizing the needles in the board.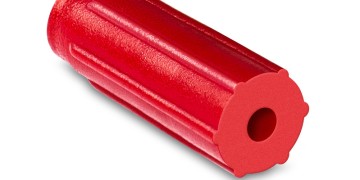 Crank positioning disk
All factors which influence the needling process must be considered here: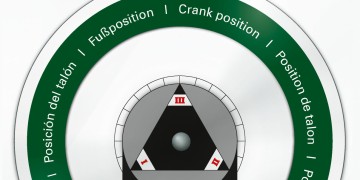 Correctly set machine parameters are just as important as the correct positioning of suitable felting needles and the positioning of the needle butt, since it has a direct effect on the orientation of the working part.
Needle inspection board
The large number of needles in the board make it almost impossible to locate damaged individual needles.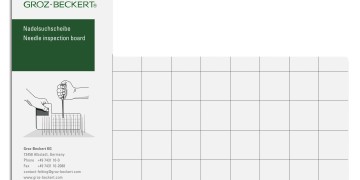 The Groz-Beckert needle inspection board helps to quickly find broken and bent needles in the board and replace them. The locating board is led through the needle rows crosswise to the direction of machine operation. Every needle can thus be checked and, if needed, replaced.
Sliding rule
The stitch density and penetration depth are important machine parameters in the manufacture of needle punched nonwovens because the right machine settings determine visual and physical results in nonwovens.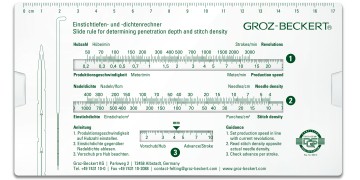 Groz-Beckert thus recommends using the combined sliding rule for stitch density and penetration depth.
Needle packaging
Groz-Beckert also values high user convenience in the packaging of its products.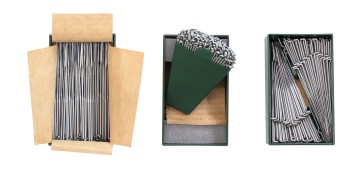 The packaged needles are protected by anticorrosive oil and paper and packed in bundles of 250 and 125 each for quick and easy removal. Groz-Beckert felting and structuring needles are available in three types of package.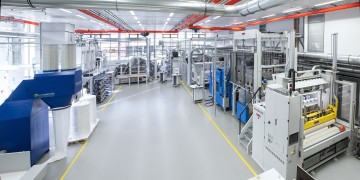 Felting services
Groz-Beckert provides a wide variety of services for machine builders and manufacturers of nonwovens.
more on services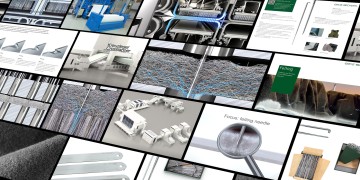 Media center Felting
The media center offers a trove of information, in the form of brochures and animations, on the range of products and services.
to the media center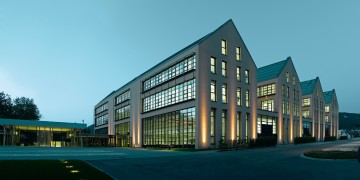 Groz-Beckert Academy
The Groz-Beckert Academy imparts practical knowledge all along the textile value chain, and of course also specifically for the manufacture of tufting fabric.
find more
Are you already familiar with our newsletter?
The Groz-Beckert newsletter keeps you informed on all the latest developments in the textile world. Would you like to know more? Go ahead and register.
to the newsletter