Jet strips – hydroentanglement technology
A method for the mechanical bonding of nonwovens is hydroentanglement, also known as the spunlace method.
This technology channels water at pressures of 30 to over 400 bar through very precisely manufactured nozzles. This produces a continuous curtain of water. The impelling force of the water jets lead to mechanical anchoring of fibers in the product.
Jet strips of different specifications serve as tools in this method. Groz-Beckert's line of products for hydroentanglement is marketed under the name HyTec®.
HyTec® jet strips
Groz-Beckert jet strips for hydroentanglement come in all common sizes, specifications and nozzle geometries.
The offering includes jet strips with an overall length of up to about 6,200mm and all common widths and thicknesses. The jet strips usually have one, two or three rows and the maximum number of nozzles can come to 20,000 nozzles per strip. Nozzle diameters normally measure from 0.08mm to 0.22mm.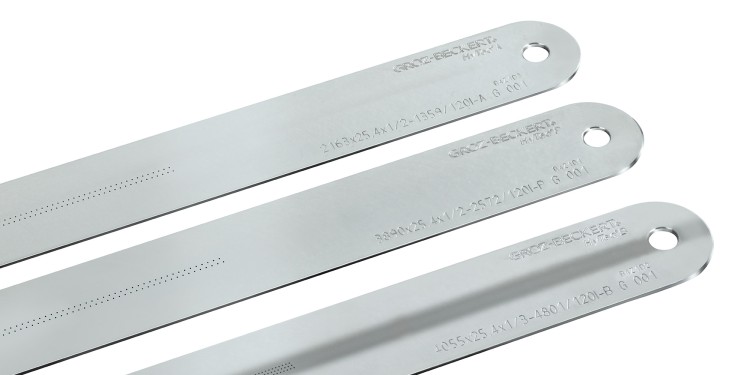 HyTec® A-Standard version
The standard material is distinguished by extraordinary corrosion resistance.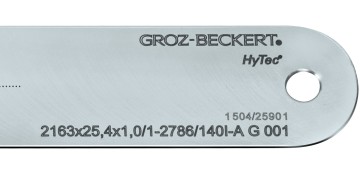 HyTec® B GEBEDUR® version
HyTec® GEBEDUR® boasts especially long service times.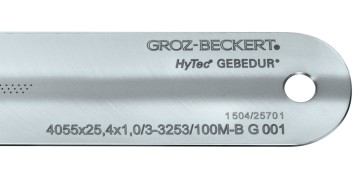 HyTec® P version
The HyTec® P jet strip simplifies handling by optimizing elasticity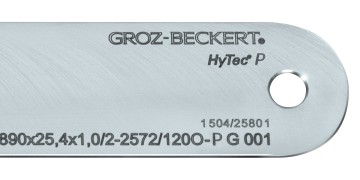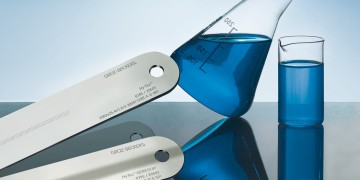 Product services Felting
Groz-Beckert recommends professional cleaning of the jet strips and also offers analysis of the process water.
more on services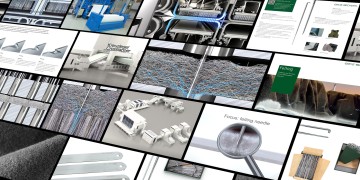 Media center Felting
The media center offers a trove of information, in the form of brochures and animations, on the range of products and services.
to the media center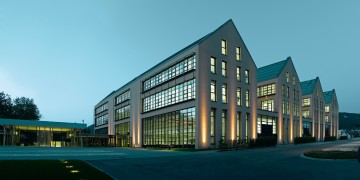 Groz-Beckert Academy
The Groz-Beckert Academy imparts practical knowledge all along the textile value chain, and of course also specifically for the manufacture of tufting fabric.
find more
Are you already familiar with our newsletter?
The Groz-Beckert newsletter keeps you informed on all the latest developments in the textile world. Would you like to know more? Go ahead and register.
to the newsletter