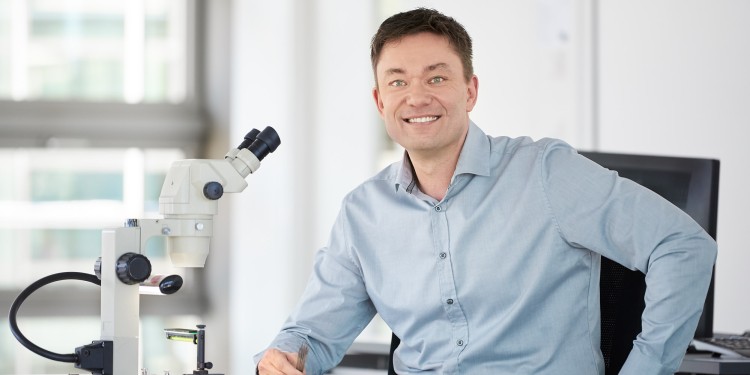 How would you describe your current job?
My daily work consists of examining new developments in technical production matters and guiding new needle types from development to series production with regard to quality. Among other things, this involves developing and establishing testing procedures in close cooperation with participating departments, in particular Design and Quality Assurance.
What makes your work especially exciting?
My work has a very international focus, and I oversee flat knitting products in Germany and abroad. The exchange between departments and over country borders is also a challenge when ensuring a good interface for everyone.
I am still fascinated by the precision required daily in needle production, when we begin to split the mμ in fine Swabian fashion. Here, we are talking about deviations significantly smaller than a hair, to make the dimensions more clear. In the end, this precision will decide whether the product is capable of optimally fulfilling its purpose or differentiating us from competitors, among other things.
Mr. Schmitz, how long have you actually worked at Groz-Beckert?
I began at Groz-Beckert in 1991 as a trainee (laughs). In the mean time, I have moved through many positions and departments and completed training as a machine design technician. By the way, Groz-Beckert supports its employees with various programs in this regard.
The most exciting time so far was from 2004 to 2010 at our Indian subsidiary in Chandigarh. I lived and worked there with my family as expatriates. The intercultural gains especially have enriched my professional career very much and serve me well even today.
What moved you to work so long at Groz-Beckert?
For me, Groz-Beckert is a stable company that looks to the future and has perspective, even beyond the borders of Germany. The opportunity for in-house training, to take on responsibility, and a particularly loyal approach in many areas are just a few of the aspects I value greatly at Groz-Beckert.
And we live in an area where others come to on vacation. In particular, I very much enjoy cycling, the free time I spend with my children, or working in my own garden.