Legwear / small diameter circular knitting
The socks sector encompasses a wide range of machines: single and double cylinder machines as well as single cylinder machines with dial. Transfer techniques used on single cylinder machines with dial additionally allow to produce a variety of patterns. These machines are offered with typical diameters from 3.5 to 6 inches, whereby depending on the gauge, needles with a thickness from 0.26 mm to 1.55 mm are employed. The machines are working with one to four feeds, depending on pattern options.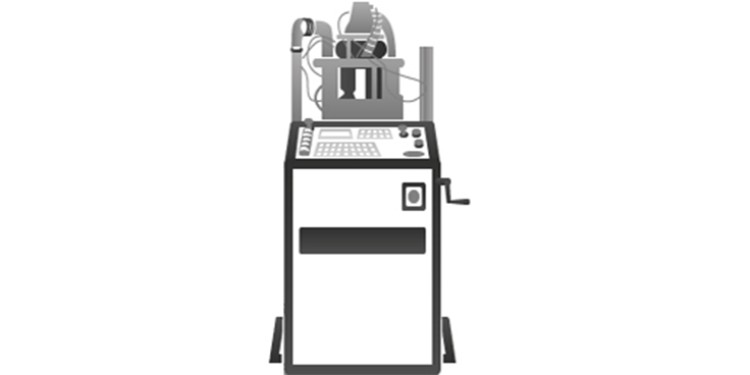 As opposed to large diameter circular knitting machines, sock machines do not knit continuous tubular fabric, but rather individual socks. The high level of technology these machines boast is on display in the capability, among others, to automatically close toes, thus manufacturing a ready-made article in one operation.
Seamless hosiery machines – in contrast to large diameter circular knitting machines – manufacture individual items that are not pulled off as tubular fabric, but rather ejected individually.
Single cylinder sock needle
Using Groz-Beckert sock needles guarantees a particularly trouble-free knitting process.
Groz-Beckert stands for strictest tolerances and highest quality standards. Uniform quality from batch to batch ensures production of flawless fabric at all times.
Single cylinder sock needle with break-off notch
Butt breakage due to mechanical overload cannot always be prevented. To minimize the effects, and in agreement with the machine builder, certain hosiery needles are equipped with a predetermined breaking groove.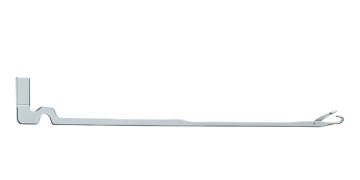 The predetermined breaking groove is on both sides of the needle butt. Shape and position are jointly defined with the machine builder in such a way that the needle butt breaks straight when overloaded. This prevents costly damage to cylinder and cams.
Single cylinder sock needle with transfer function
The transfer function of these needles helps to manufacture high quality openwork patterns or ribbed patterns on single cylinder machines.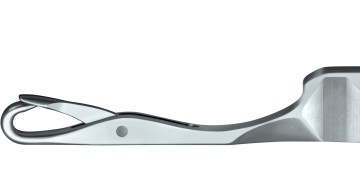 A needle with transfer function has a transfer milling between the loop-forming part and the needle butt, which can be designed as a groove or as a groove with additional transfer clip. These needles enable loops to be transferred to opposite needles.
Single cylinder sock needle with transfer wing
With the transfer wing, high quality openwork patterns, also called ajour patterns, can be manufactured on single cylinder machines.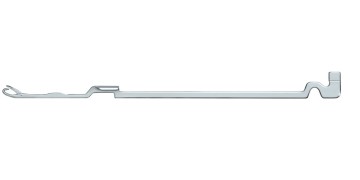 Supported by the transfer wing, a loop can be transferred from one needle to an adjacent needle on the same needle carrier. This makes transfer possible in one direction within the same needle carrier. Needles with transfer wing possess a transfer area in the form of a wing between the loop-forming part and the needle butt. This wing is an integral part of the needle shank.
Single cylinder hosiery dial needle
Single cylinder hosiery dial needles are relatively short in their overall length. They make it possible to produce real ribbed hosiery. They come with and without transfer function, depending on application.
Dial needles help produce different cuff types for socks that would normally be manufactured with a different machine technology. Dial needles allow unusual and attractive socks to be produced.
Links needle
Links needles, also called double-headed needles, are equipped with two loop-forming parts located at the ends of the needle. They are used in double cylinder machines, for instance for classy ribbed men's socks.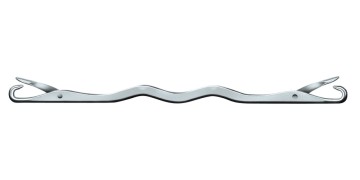 Seamless needle
Seamless needles are the thinnest needles available for legwear. They are used to manufacture high quality women's stockings with the smallest loops.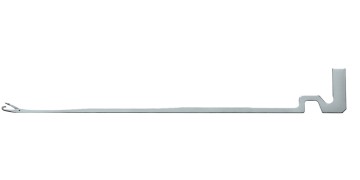 Seamless needles are thinner than conventional sock needles and because of the high machine speed have a shorter latch than sock needles.
Sinkers
Groz-Beckert system parts ensure long-term uniformity and flawless fabric. Short setting periods and reduced downtime provide for high productivity.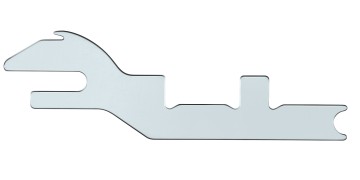 At Groz-Beckert, the functions of all components of the entire knitting system are optimally coordinated with one another. Development and optimization are performed in close cooperation with the machine builders. A fundamental precondition for a uniform loop structure is optimal edge rounding of sinkers. This is especially important in fine knitted fabric. Groz-Beckert uses modern processes to excellently round critical areas of holding down / knockover sinkers. Extreme loads from mechanical influences in the loop formation process cause premature wear. For this reason, Groz-Beckert has adapted the hardness of its sinkers to the higher requirements by employing special grades of steel. Groz-Beckert offers sinkers with and without local hardness. Local hardness means precise wear protection in the yarn-touching area. This is especially important when used in high-speed machines and when working with abrasive materials.
System parts for toe closing system
Toe closing systems in sock machines ensure that the sock emerges finished from the machine, thus making manual closing of the sock superfluous.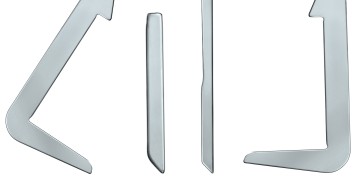 These system parts perform the task of removing the sock from the knitting cylinder and automatically sewing it on the machine.
Transfer parts
The transfer parts in a sock machine are used to manufacture the top of the sock.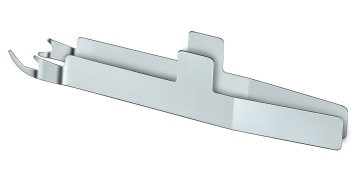 The transfer part takes on a loop from the first row of the top. After the second to last row of the top has been knit, the needle takes up the loop hanging on the transfer part and knits it to the last row of loops. This closes the top.
Intermediate jack
The intermediate jack is used as connecting piece between needle and selecting jack. It ensures that a specified needle is securely positioned and performs the right knitting function.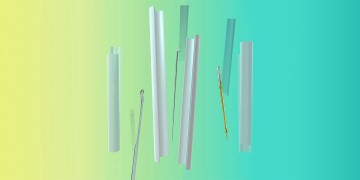 Experience knitting products in 3D
Discover our 3D product highlights for the knitting industry or arrange an online meeting with one of our experts.
explore now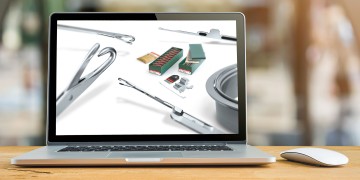 Online catalog
The customer portal for knitting customers provides detailed product information including pictures, technical features and dimensions.
visit now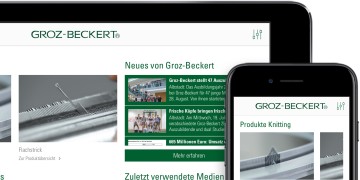 Mobile app
In the myGrozBeckert app you can find useful tools and calculation aids for the knitting industry.
find more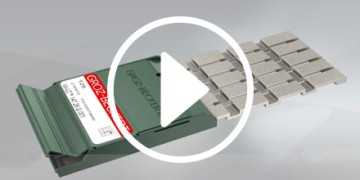 Downloads
In the media center you can find all kinds of information in the form of brochures, animations, and videos for free download.
to the media center
Are you already familiar with our newsletter?
The Groz-Beckert newsletter keeps you informed on all the latest developments in the textile world. Would you like to know more? Go ahead and register.
to the newsletter