Variety has a future
Shape your textile future with Groz-Beckert.
With great success Groz-Beckert develops, markets and produces industrial precision needles and parts for different textile production and joining procedures. The company continues to expand on the basis of its employees' capabilities and commitment.
But what does Groz-Beckert offer as an employer?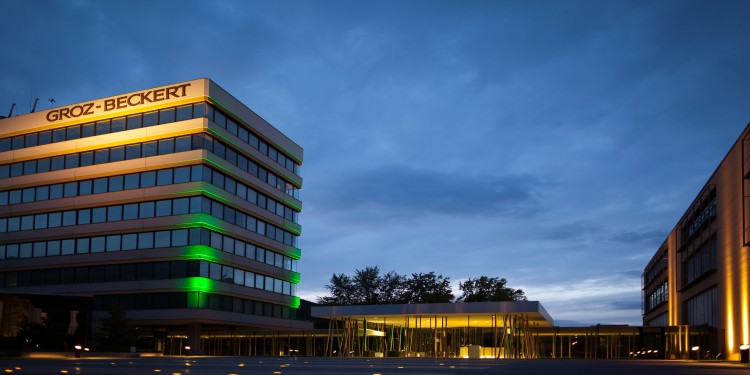 Groz-Beckert administrative building, Albstadt
Textile freedom – Precision in every detail
Scores of production plants, sales affiliates and agencies provide Groz-Beckert with a presence in over 150 countries. With knowledge transfer, exchange of experience and foreign postings, the entire textile world is open to employees.
The Groz-Beckert product range also reflects a plethora of opportunities: a total of 70,000 product types, as well as systems and services along the textile value chain, are on offer. They make an essential contribution to the production of clothing and house and home textiles. They are also present in new application areas such as mobility, medical technology and architecture, since high tech fabrics, fibers and yarns also play a major role here. Opportunities and lines of work for employees are thus almost unlimited.
Whether needle technology or mechanical engineering, development, sales or controlling - creativity and initiative are encouraged and an open mindset and high motivation fostered. Flexible working time models are also possible.
---
Sustainable activity ─ bearing joint responsibility
Groz-Beckert stands for customer focus in the textile world. Prerequisite for this is that all employees identify with their projects and execute them responsibly. But responsibility is not a one-way street. That's why Groz-Beckert is dedicated to its employees and invests in their future.
Groz-Beckert's own company health insurance testifies to this, harking back to the year 1888. Moreover, since 2013 a spacious Health and Education Center has stood at the headquarters in Albstadt, including day nursery, kindergarten and elementary school, as well as a Healthcare Division. Groz-Beckert furthermore steadily invests in continuing education and offers workshops, training courses and trainee programs.
Regional, targeted and sustainable is also the Groz-Beckert Foundation, which has taken on the task of finding gifts and fostering talent.
Sustainability, of course, also includes environmental issues. One of Groz-Beckert's foremost aspirations is thus to contribute to reducing emissions with its products. To work at Groz-Beckert is to do this with a clean conscience.
---
Ahead of its time ─ with Groz-Beckert as a partner
More than 9,000 employees around the world and success in the textile industry since 1852 ensure a mature business base unaffected by the fluctuations of the dynamic textile markets. This security coupled with venerable values such as relations based on partnership and reliability ensure a motivating environment.
Less fluctuations and increased loyalty at all levels are the logical benefits. Groz-Beckert cultivates continuity and long-term relations with its employees.
---
Throughout Albstadt ─ work-life balance
Albstadt is in a scenic region between Stuttgart and Lake Constance which boasts high recreational value, and not just for outdoorsy types and families. Learn more about Albstadt, nearby Balingen and Lake Constance.